There are a number of factors those who are married have to consider when deciding on their tax filing status.
If you were to search for information about the difference between filing jointly v. separately (or mfj vs mfs), you would likely find articles that explain the mathematical calculation. They explain which tax deductions and tax credits are impacted by the decision.
These articles stop short. They usually do not go further and explain how innocent spouse relief can be used after the tax returns are filed to shift the tax to one spouse or the other. This issue is a part of the tax planning process for divorce.
The recent Wheeler v. Commissioner, T.C. Summary Opinion 2021-42, case provides an opportunity to consider innocent spouse relief and how one's filing status impacts the availability of this type of relief.
Facts & Procedural History
The taxpayers got married in 2000 and divorced in 2015. They resided in Texas, which is a community property state.
The taxpayers formed and operated a business during their marriage. The business was taxed as a Subchapter S corporation. The taxpayer-husband owned 50 percent of the business and the taxpayer-wife owned 50 percent of the business. Both taxpayers received wages from the business.
The taxpayer-husband filed for divorce. The divorce decree said that each spouse was jointly liable for taxes for 2014 and earlier, but that they would file separately for 2015.
After filing separately for 2015, the taxpayer-wife filed for innocent spouse relief. She made this filing to ask the IRS to not hold her liable for the 2014 and earlier years and not for 2015. This court case focused on the 2015 tax period.
The IRS concluded that the taxpayer-wife was not entitled to innocent spouse relief for 2015 on the one-half interest she owned in the S corporation business.
The taxpayer-wife then filed a petition in the U.S. Tax Court to have it review the IRS's determination.
When to File Married Filing Separately – Which Tax Filing Status to Use?
The general rule is that married individuals have to file as married filing jointly or married filing separately if they are married on the last day of the tax year.
Married individuals cannot file as single or as head of household filing status.
This "married filing status" is not optional. This is true even if the couple is separated and living apart. Their filing status has to be one of the two married filing statutes.
Thus the answer to the question, "is it better to file single or married," is that you have to file as married if you are married. There is no better. But there may be a "better" for married filing jointly vs. married filing separately.
Is Married Filing Jointly Better than Married Filing Separately? Benefits of Filing Jointly.
This brings us to the question, "Do you get more money filing jointly?"
When evaluating married filing jointly vs. married filing separately filing status, it is generally true that married filing jointly results in lower taxes when viewed collectively for both spouses.
Congress has made some efforts over the years to take out marriage penalty previsions. These are provisions that make it less advantageous to file as married vs. single. Congress has gone further and made it more advantageous to file as married filing jointly rather than married filing separately on separate returns.
For example, married couples filing separately only get a $12,500 standard deduction in 2021. This is less than the $25,100 available to joint filers. This difference in standard deductions is slight. It might not seem like a lot.
The real difference comes from the disallowance of itemized deductions. If one spouse files separate returns and itemizes their deductions, both spouses have to itemize. This can result in one spouse getting less than the standard deduction. This can be inequitable in many situations. Consider the case where one taxpayer has significant medical expenses that they would deduct as itemized deductions. Medical expenses are deductible as itemized deductions. The spouse that incurred these medical expenses may lose the ability to deduct the expenses if the other spouse opts to itemize their deductions.
There are also income phaseouts or limitations for several other tax benefits, such as tax deductions and tax credits. These phaseouts or limitations are often skewed in favor of those married filing jointly rather than those who are married filing separately.
The analysis is a bit more complex than this, as one has to consider the state property laws. There are two types of states when it comes to property ownership by married couples, namely, common law states and community property states.
Spouses in Common Law States
Common law states are also referred to as separate property states.
If the spouses live in a common-law state (which most states are, such as New York and Colorado), the spouses are deemed to own their own income and income from their property.
Federal tax law picks up on this ownership and says that these spouses each report their own income. So if they file as married filing separately, the spouses can shift the income tax liability to the spouse who has the most income.
Married filing separately may be preferred by the lower-income spouse in this case.
Spouses in Community Property States
The law in community property states deems all income and property acquired by a married couple during marriage to be owned jointly. This usually means 50/50 ownership.
If the spouses live in a community property state (such as Texas and California), they are required to divide their community income (i.e., income from community property) and each spouse reports one-half of the income on their separate returns. For example, a spouse who earns W-2 wages while married would divide the wages in half and each spouse would report half on their individual income tax returns.
Congress recognized this inequity for community property states. It enacted Section 66 to level the playing field.
Section 66 says that "earned income" which is community income, such as wages, does not have to be divided between the spouses if the couple lives apart during the entire year.
This is why married filing separately may not be preferred by the lower-income spouse. The lower-income spouse will have to pay tax on their 50 percent of the community property income if the couple did not live apart for the whole tax year.
(if these rules are news to you, yes, we help fix tax returns when tax preparers do not report community property income).
Let the Software Show You the Way
Luckily, most tax preparation software can compute these differences between married filing jointly and married filing separately. The tax software can display the differences on a schedule that can be printed. It can even show the differences between each spouse on this schedule.
This can help couples decide which way to file. As described below, this type of analysis should be part of the tax planning that is performed by both spouses in the years leading up to and after the divorce. The tax software can be used to reflect different scenarios based on which spouse reports the community income.
About Innocent Spouse Relief
What if the couples already filed their returns or are worried about being able to pay the tax liability that they have reported or plan to report? This brings us to innocent spouse relief.
This is where innocent spouse relief comes in. This relief applies after the couple files their tax returns. It can be used to reallocate the liability for the taxes reported by the couple.
To understand innocent spouse relief, we first have to know that spouses have joint and severable liability for taxes reported on a joint income tax return. This means that the IRS can collect the taxes from both of the spouses or either of the spouses.
Section 6015 sets out three different situations when the so-called "innocent spouse" will be relieved of liability. It only applies if the spouses file a joint income tax return. For those in community property states like Texas, Section 66 also comes into play. It affords taxpayers who do not file jointly a similar remedy. This allows those who file as married filing separately in community property states to qualify for innocent spouse relief on community income.
If granted by the IRS, the so-called "innocent spouse" may not be liable for the taxes. This leaves only the other spouse liable or, when Section 66 applies, no spouse liable.
This court case focuses on community property and the situation where the couple does not file jointly. Here is a diagram that shows what income the court addressed in this case: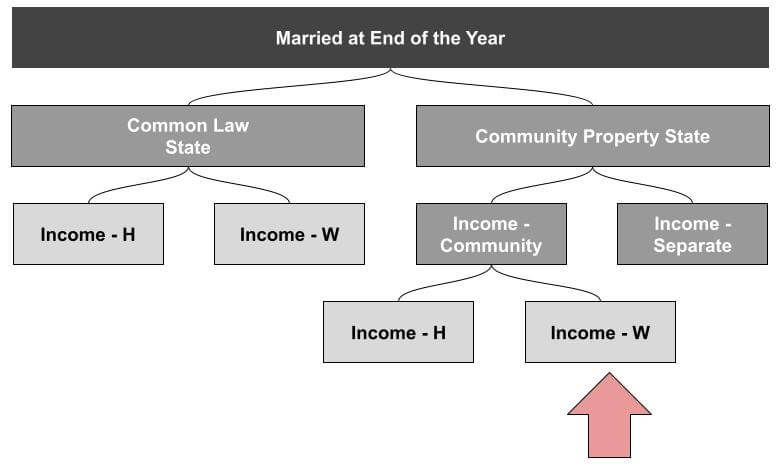 As you can see, the court case only addresses the non-requesting spouse's community income. That was the wife in this court case. We'll come back to this later in this article.
Innocent Spouse Relief in Community Property States
For spouses in common law states who file jointly, one of the spouses may use innocent spouse relief to escape liability for the taxes. The same rules apply to spouses in community property estates and those who file joint income tax returns. This might even include relief for the requesting spouse's community income.
The Wheeler case involved spouses in a community property state who file separately. The requesting spouse sought relief for tax on her own community income.
The IRS argued that the taxpayer did not qualify for relief under this provision as she was seeking relief from her own community property income. The question for the court was whether Section 66 relief only applies to the non-requesting spouse's community income.
The court held that it does. Thus, couples who are in a community property state and who file separately, cannot avail themselves of innocent spouse relief for their own community income.
Most taxpayers who are getting divorced and live in community property states should consider these rules. This is especially true if the spouses do not live apart throughout the entire year.
The Takeaway
This court case presents an issue that should be addressed with advance tax planning.
Divorce presents a number of tax opportunities like this for married couples.
This planning might include transferring ownership of the business or community property asset to one spouse prior to the divorce in exchange for some other asset. It may include changing the community property status of the asset, which can be accomplished by a post-nuptial agreement.
It also might include provisions in the divorce decree that say who is liable for the balance. Even if not binding on the IRS, it could be binding on the spouses and enforceable by the family law court.
These are just a few examples of how spouses might be able to obtain a more preferred tax solution given their circumstances.
Watch Our Free On-Demand Webinar
In 40 minutes, we'll teach you how to survive an IRS audit.
We'll explain how the IRS conducts audits and how to manage and close the audit.